Book of the week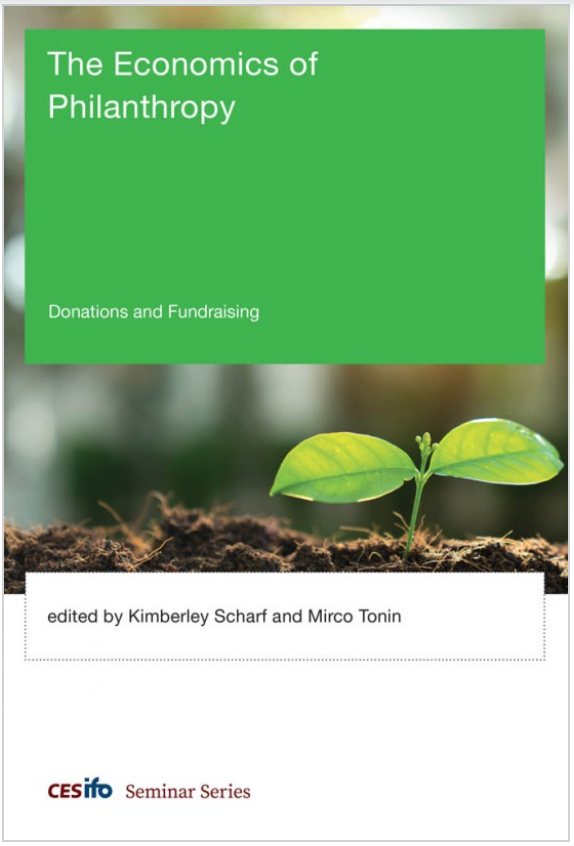 Experts bring economic tools to bear on philanthropic activities, addressing topics that range from the determinants of giving to the effectiveness of fundraising techniques.
Kimberley Scharf and Mirco Tonin - Mit Press
Donations and Fundraising
Economists are increasingly aware of the need to better understand philanthropic activities. In this book, economists address a variety of topics related to the economics of philanthropy, ranging from the determinants of giving to the effectiveness of fundraising techniques. The contributions focus on individual motives for giving and volunteering, and in particular how they affect donation outcomes, fundraising decisions, and public policies toward giving. Previous research has viewed motives for giving as embedded in formal models of economic behavior with rational agents who maximize their own utility while constrained by a budget. These models, however, have been shown to have poor predictive power, neglecting direct and indirect motives for giving. The contributors consider, among other subjects, the free-riding problem in these models; altruistic, direct, and indirect motives for giving, addressed both theoretically and with lab experiments; the linear public good game; the role of social information; the effectiveness of matching gifts and premiums; motives for unpaid volunteering; subscription models as a way to regulate revenue streams; and increasing reliance on public funds.

Upcoming Events
100X100 Achille. Designausstellung im Archäologiemuseum
Nach dem großen Erfolg in Mailand verlässt die Ausstellung 100 x 100 Achille nun die Fondazione Achille Castiglioni, um auf Tour zu gehen. Ihre erste Etappe wird das Bozner Archäologiemuseum sein, wo die Ausstellung vom 1. bis 19. August zu sehen sein wird. Ein Projekt in Zusammenarbeit mit der Fakultät für Design und Künste.